OfficeTune Inventory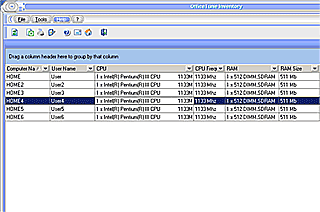 OfficeTune Inventory will allow you to automatically monitor and manage your enterprise hardware. Audit information can be used to set up an appropriate budget by accurately calculating the number of hardware changes needed when upgrading your systems. Additionally, it allows you to proactively manage organizational changes.

OfficeTune Inventory offers a powerful interactive report grid to enable you design custom reports that fit your needs. You can also print all your reports or export audit information in MS Excel Worksheet format for external analysis and presentation.

Current version : 1.0 (released 9 Jan 2003)
More info... | Download (1.43 Mb) | Buy now






Submitus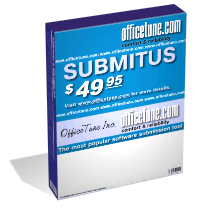 Submitus will allow you to submit your software and website to the best freeware and shareware sites and catalogs on the Internet. The software includes IE as well as a database full of software archive sites, so you can be sure that your submissions will be accepted without any errors.
You can define the basic information for your website and program (e.g. title, version, urls, date, keywords, os, descriptions, etc.) and you can automatically populate the submission form and with a drag & drop function.
All you have to do is select the category for each site and press Submit.
The software also maintains your submission status (new/old) and stores your ID password and information for future use.


Distributing your software to download sites involves three main stages:
Submission (the program automatically places a flag to identify the site as Submitted)
A check to see if the program is already listed on the site (if so, the flag Published is placed next to the site)
Submission of a new version (the program automatically changes the flag Published to OldPublished)

In the Submitus list of sites you can always see how many sites you have submitted your software to, how many have listed your program, and how many rejected it. An intuitive and clear design of the site names allows you to easily orient your way through the database of sites. This way, Submitus allows you to efficiently handle the needs of your business.

Current version : 1.5 (released 9 May 2002)
More info... | Download (850 Kb) | Buy now






OfficeManager

OfficeManager is a perfect solution for office data organization. OfficeManager is one of the best and the most popular database management programs on the market. Its intuitive user interface is ideal for both the novice and expert PC user.
OfficeManager has many powerful features, including storing contact information, advanced searching, sorting, adding all contacts of agents within companies, and analysis information, all presented in easy-to-use forms and reports.
OfficeManager is designed for tasks such as close-fitting interaction with companies of different directions and helping you to further your cooperation with them. The possibilities are endless.

Current version : 1.0 (released 22 Aug 2001)
More info... | Download (934 Kb) | Download BDE | Buy now