OfficeManager description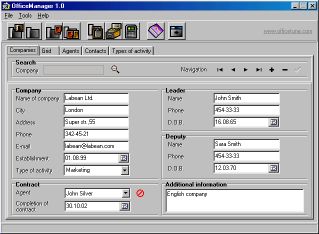 OfficeManager is a perfect solution for office data organization. OfficeManager is one of the best and the most popular database management programs on the market. Its intuitive user interface is ideal for both the novice and expert PC user.
OfficeManager has many powerful features, including advanced searching, sorting, adding all contacts of agents with companies, analysis information, all represented in easy-to-use forms and reports.



OfficeManager is a powerful database tool designed to maintain records and enable you to quickly search and find data. See below for a list of the main features of OfficeManager.
Main OfficeManager features:
Maintain information on companies and agents (your employees)
Keep information on types of activity
Advanced searching for companies and agents
Fixing all contacts with companies
Setting period of the contract with the company
Notification of special dates or events
Notification of birthdays of important individuals
Reliable reports
Please take a look at the software and let us know your feedback. If you have any questions about the software or suggestions as to how we can improve it, please send us a message at support@officetune.com